Goodie Mob X Groupon Album Pre-Sale Release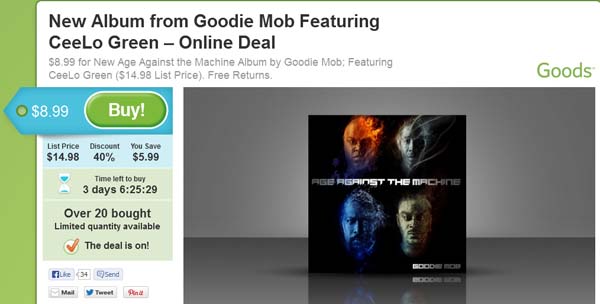 Goodie Mob will be dropping "Age Against The Machine" their first project in almost a decade (and their first in 14 years with Cee-Lo Green). It's been a long time since they last released their last album and lots of things have changed since then. Their digital marketing and management team have them on a high speed crash course in digital media. Their Twitter and Facebook game is on point, fully branded, with daily content updates. Their Blog/Digital media outreach is garnering impressive placements on major music and news sites.
Now this week they stepped their digital game up by introducing their "Groupon Deal."
This is a great sales marketing and demand buzz strategy. The bright shop Digital team are definitely on point for including this Groupon Release in their marketing strategy.
A week before the album's release date Groupon participants can purchase The Age Against The Machine album for $8.99, or a 40 percent discount off the $14.98 list price. This is relatively new in the music distribution model but not a totally unheard-of—sales strategy, Ciara ran a Groupon promotion which ran at the end of last month, where she sold her latest self-titled album, as well as a Greatest Hits collection, for a discounted price after a steep drop in sales. It should be interesting to see if this "Groupon Pre-sale Release" adds significantly to Goodie Mob's "Age Against The Machine" over all album sales.
Here a look at the Creative Visual that Digital Urban intelligence Agency did for the Age Against The Machine tour stop in Denver Colorado.