Steve Aoki Caught Using Pirated Software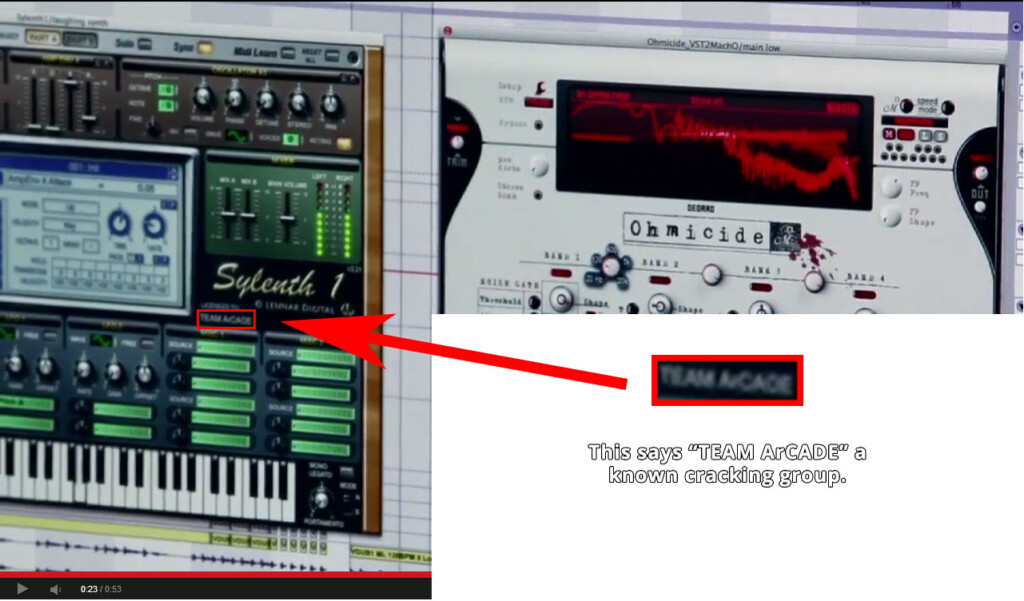 Our Homeboy kid Millionaire Better know as Steve Aoki Has been spotted using pirated software to make beats. This situation saddens our heart. We go way back with Steve. But we got to keep it real and let you know whats up. So here we go. In a recent youtube video promoting his collaboration with Linkin Park titled 'A Light That Never Comes, Steve was spotted using a pirated version of popular synth plug in 'Sylenth.'
In The Youtube Video t around the 0.23 second mark, the camera pans onto the computer screen showing the cracked version of the software licensed to the hacking group 'team ArCADE', who are well known for their cracked software available online.
This finding set social media a buzz, bringing Aoki lots of backlash from the EDM industry and fans alike. People were in awe after The Dim Mak label owner who was listed at number eleven on the Forbes DJ Rich list but, feels the need to get something for free that he could pay for with the change in his pocket. which retails for around $215 $186 USD
Most Artist, Dj's and Producers start out as broke azz fans of music. Music equipment is not cheap. The problem is you can't download an MPC or a Triton keyboard. You can't download a Mac, it's impossible to download hardware. So most artist starting philosophy is get what you can by any means necessary. The thing is Steve forgot that he "Made it", He forgot that he was successful and rich and can afford just about anything he wants. He suffers from the Same syndrome that many rap artist suffer from called "Fame-nesia" When they forget that they have made it and have the success and fame and they Don't need to do the Dumb Sh!#t they did when they were broke and had nothing to lose.
Rumors are that Lennar Digital has been notified, no word on their response yet.
Stve Aoki's latest bout with "FAME-NESIA" had the world up in a uproar with social media comments like these.
"Soooooo time to pirate some Aoki beats then right? And no one in the music industry can ever complain about people downloading their music for free.
Well I personally think we should, if a producer, who let's face it, has some money to burn can't be arsed to pay for the software he uses then how can he expect normal right-minded bass-ethusiasts to buy his music legally?
You don't make money by constantly spending it on stupid shit, kiddo. Do some research. Rich people get rich by being frugal and very decisive with every purchase that they make, whether it's groceries or a car.
What's even worse is I'm sure the person who posted it to reddit is probably pirating all his music any way.
What's the point of making so much money if you aren't going to spend it?
So if an artist makes it off the back of some pirated software would it be unreasonable for him to donate a one-off fee to the software company as a thank you maybe?
Phil Smith Yes, but being "frugal" on the things you use to make money deserves a much meaner term than "frugal." I've dropped over $2k on gear I've earned about $40 return from, because you can't steal hardware.